Outdated versions of QuickBooks has different system requirements than the newer supported editions. In your case, 2013 versions will not work in Windows 10.
The system requirements for QuickBooks 2013 includes the following:
Windows 8, all editions including 64-bit, natively installed (QB R4 and later required)
Windows 7, Windows Vista or Windows XP: QuickBooks Pro / Premier minimum requirements
Windows 7, Vista, and XP: QuickBooks Enterprise Solutions minimum requirements
Your option is to retain the installed file in Windows 7 to avoid compatibility issues.
If you want to use QuickBooks in Windows 10, you will need to upgrade the software to the latest one. You can also use our trial version if you want to file taxes in QuickBooks or just want to try the features in the updated editions.
All you need to do is secure a backup copy of your QuickBooks 2013 data, then you can upgrade it to an edition that is 3 years higher. For example, you can restore a 2013 back up to a 2016 software, then make a backup from there. The back up is essential because once it's updated, it can no longer be downgraded. You can use the .QBB file to restore the information anytime.
Once done, restore the 2016 backup to another 3 year version (2019). Then from 2019 to our 2021 trial version so you can use QuickBooks in Windows 10. Please note that our trial versions will only work for up to 30 days.
You cannot skip this process and jump directly to the newest versions. Everything must be done in hierarchy.
For the steps to restore the file and how to move your company to QBO, use these listed on this articles:
Restore a backup of your company file
Move your QuickBooks Desktop file to QuickBooks Online
If you need help with the file transition and assist you with the upgrade, please get in touch with our Support Team. To get a representative, follow the steps below:
Open QuickBooks and click the Help menu.
Select QuickBooks Desktop Help.
On the pop-up screen select Contact us.

Click the Search for Something else button then type your concern in the Ask us anything box.
Hit Search then scroll down to get your contact options.
Refer to this article to learn more about our contact options and support availability: Contact QuickBooks Desktop support
Post here again if you need further clarification about the process. I'll be right here to help you with your data or any other QuickBooks related tasks.
How to check your Windows 10 version?
Windows 10 is not used by everyone on same version. Thus, in order to check the version, along with other specifications, the below listed steps can be carried out.
The very first step in the process is to click on the Start menu, and then type About your PC
After that the user is supposed to click on About your PC, followed by scrolling down to look for the version number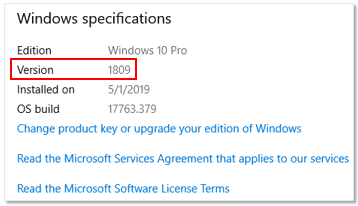 New updates included in Windows 10
The start menu in the latest version is same as in Windows 7
Windows 10 comprises of a virtual desktop, called the task switcher
Microsoft Windows 10 boasts the latest version of .Net framework (4.6)
Windows 10 comes with a new browser named EDGE
Supported Versions of QuickBooks desktop in Windows 10
After obtaining the version number, the user needs to look for the version that is certified to work with QuickBooks. Below we have mentioned the versions supported by QuickBooks Desktop.
Windows 10 version 1809:
QuickBooks Desktop 2020 is certified to work in a proper manner on version 1803 of Windows 10. However, QuickBooks desktop 2017-2019 are not completely certified.
Windows 10 version 1803:
Coming to this version of Windows, QuickBooks desktop 2017-2020 are entirely certified to work in the best possible way on this version of Windows operating system.
Windows 10 version 1709:
Similar to the earlier one, on this version of Windows also QuickBooks desktop 2017-2020 are certified to work without any hassle.
Windows 10 version 1507, 1511, 1607, and 1703:
For the ones who are using the Home or Pro versions of the mentioned Windows editions, then it is recommended to update them to the latest release of Windows 10. The reasons is that Microsoft has already discontinued support for the mentioned versions.
Version of QuickBooks Desktop supported with Windows 10
QuickBooks 2016 R7 & later
It's a news of joy that the entire QB users of QuickBooks 2016 R7 are authorized to work with the Windows 10. If the user is using a QuickBooks version earlier than R7, then in that case the user needs to update the QuickBooks to the latest released version, in order to work in efficient manner. However, for QuickBooks 2016 R7 or later user, updating is not mandatory and can swiftly work on the Windows 10.
QuickBooks 2014 and earlier
It should be noted that QuickBooks 2014 is not supported in Windows 10 and using this version might create compatibility issues or can end up in a complete mess. Thus, to further use QuickBooks, we request the user to upgrade the version of QuickBooks to 2014 or 2015.
QuickBooks 2015 & QuickBooks 2016 (R1 – R6)
It is possible that being a QuickBooks user, you will try to open the QuickBooks 2015 on the Windows 10. But to actually do that successfully, you need to ensure that you enabled the .NET Framework 3.5 which mostly comes as disabled by default from the Microsoft so that the OS user experience the best while using the operating system that doesn't support the QuickBooks.
Windows 10 also supports QuickBooks 2015. Although you need to ensure that .NET 3.5 is enabled for QuickBooks 2015, for that you could use the steps mentioned below-
The very first step is to click on the "Start" button
And then, press "Windows + R" keys, in order to open "Run" Window
Once done with that, the user will have to type in "Control Panel" and hit "OK" button
After that select the "Turn Windows features ON or OFF" option, after clicking on the "Uninstall a Program" option
After clicking on the above one, the user will witness a dialogue box will appear saying ".NET Framework 3.5", along with .NET Framework 4.5.


The user needs to ensure that the option is activated. If this option is off then enabled
And to end the process, the user is recommended to "Reboot" the system