Zomato business model spins around providing meal ordering as well as delivery services. Besides this, the platform makes it easier for users to have quick access to information, menus of partner restaurants, and user reviews. It has transformed the food business industry by incorporating various restaurants and makes it convenient for food lovers to search for restaurants, check listenings, provide feedback, and availability according to a variety of cuisine.
The food platform allows its service across 24 countries globally and offers insight analytics to various restaurants. The analytics helps restaurants to improvise and improve their business. In 2008, Zomato started a restaurant listing directory; the meals delivery company has come a long way then ventured into multiple business segments. Let's have a look at what is Zomato? How does the delivery platform work? Business and revenue model, and how the business giant makes a profit.
What is Zomato?
Zomato is an Indian meal ordering and delivery platform and multinational restaurant aggregator founded in 2008 by Pankaj Chaddah and Deepinder Goyal. The delivery provider menus, information, and user review of restaurant and meal delivery options from partner restaurants in selected cities. In 2019, the service offered its delivery service in 24 countries and 10,000 cities.
Zomato Success Story, Investment & Acquisitions Details
In 2008: Zomato was founded as Foodiebay;
2011: Expands service across India;
2012: Expands operations internationally;
2013: Expands service to New Zealand;
2010 and 2013: Raised US$16.7 million from Info Edge India;
November 2013: Raised US$37 million from Sequoia Capital and Info Edge India;
November 2014: Zomato another round of funding of US$60 million;
April 2015: Raised funds of US$50 million;
In February 2021: Zomato raised US$250 million;
July 2014: Zomato acquired Menu-mania for an undisclosed sum;
2015: Seattle-based food portal for $60 million;
2016: Zomato acquired Sparse Labs;
2020: Zomato successfully acquired its rival Uber Eats' business;
2021: the meal delivery company signed a deal with Grofers.
In 2021, Zomato IPO raised almost 9,375 crores; it was the most talked-about experience as the Indian startup went public. All this was just after COVID when many things became uncertain; this means Zomato was performing all the things correctly. And looking to its success, it becomes more crucial to have insight into Zomato revenue and business model.
Zomato focuses on online food ordering and delivery; the food-search engine has partnered with many restaurants and establishments to provide improved services to customers on their demand. Zomato is considered the world's largest meal delivery aggregator, which connects hungry people with food. The online ordering and delivery platform collaborates with local restaurants to make a sustainable ecosystem possible.
Zomato Business Model: How the Delivery Platform Works?
Zomato's operational model is very effective. The platform makes it easier for customers to use websites or apps to search, discover, and find different restaurants to order foods, book tables to dine out and perform other activities. The local restaurant receives the order and prepares the meal; later, the proprietor platform algorithm chooses the delivery provider and assigns delivery.
Delivery personnel aren't employees but partners to the company; they have the right to accept or reject the order. Once the job is accepted, the provider delivers it to the mentioned location. Most customers can make payments at the time of delivery or through digital methods. Customers can check reviews, ensuring to help Zomato to enhance its services and make smart choices while placing orders.
Zomato delivery model is divided into three steps:
Customers use a delivery app like Zomato to order from existing food joints, and restaurants have partnered with it;
The company pings the nearest apt delivery partner to deliver the order to a customer;
Delivery partners deliver the order;
Delivery partners and Zomato get commissions.
The dine-out operating model, Zomato, differs from the usual delivery service, depending on the subscription-based Zomato pro offering. The premium subscription-based service provides its members additional discounts and advantages on delivery services and dining out.
Key Activities of Zomato to Have Insight into!
Before tapping into other business segments, the online delivery platform focuses on the online restaurant directory. It partners with eateries joining the platform to improve visibility and charges them a commission for prominently on the feed. They pay for the promotion and offer amplified conversions from Zomato users. The primary activities of Zomato are divided into seven categories, includes:
Restaurant Listings;
Food Delivery;
Live Events;
White Label Access;
Zomato kitchens;
Hyperpure;
Consultancy
The Zomato business model is undoubtedly a well-orchestrated plan that consists of different factors that smoother the functioning of the delivery platform. You can even start offering the same service and experience to customers with an app like Zomato. You can have a quick look at delivery platform to provide your ideal customers with top services – https://whitelabelfox.com/delivery-anything-app
Key Partners of Zomato: How the Digital Platform Attracts Investors
Zomato business model can be categorized as follows:
Local Restaurants
The online ordering and delivery platform partners with restaurants to increase online presence and visibility to draw the ideal customers and tap into potential customer bases.
Users
The digital platform acts as a panacea for its users by rendering them a platform where they can discover, explore different restaurants, eateries, and book a table, dine out or order food.
Delivery Personnel
The online ordering and delivery platform provides doorstep delivery services to customers—Zomato partners with delivery providers who complete the entire chain by providing part or full-time delivery services.
Reviewers
Customers can review cafes, other food places, restaurants and provide relevant details about cuisine and other details in graphical or texture format.
An app like Zomato has partnered with many businesses such as Paypal, Visa, and Uber Taxi. The online food ordering app had a tie-up with Uber taxi to provide customers with quick access to ride booking. It helps us eliminate the requirement of using two different apps, that brings together a combo solution to book ride and search nearby restaurants, everything from one place. The different alliances assist in getting set-up locations, market research, handling political and legal issues, hiring and other procedures, accounting, and so on.
How Does Zomato Make Money?
Zomato has undoubtedly become a big name in the meal ordering and delivery industry since its inception. In 2021 the brand had revenue of $394 million, while there has been a steady increase in hyperpure revenue from 2020 to 2021, as it was measured around $1.8 million & $14.7 million, respectively.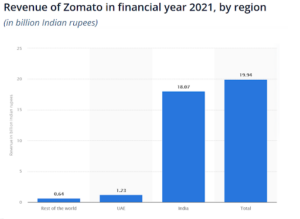 Image: (Source)
The diversified collection of activities that plays a crucial role in making its revenue are:
Advertisements
Subscriptions
Consultancy And Data Monetisation
Food Delivery Services
Live Events
Zomato Kitchens
Advertisements
Restaurants that wish to improve their visibility and online presence can advertise their business through the platform. A good source of revenue comes through promoting and advertising the restaurants that pay for the same.
Zomato Subscriptions
The subscription-based freemium model of Zomato, "Zomato Pro," provides customers with different discounts and offers on food delivery and dining out services. Zomato Pro offers 1+1 on meals while 2+2 on drinks for Zomato Pro users; the subscription also helps customers get their deliveries faster than ever before. It provides a 3-month membership at 200 and annual pro membership at 750 in India only.
Consultancy & Data Monetisation
Zomato can quickly analyze users' behavior based on data repositories. It gives an insight into which food is trending, what kind of meal is in demand, what people are more likely to search and order, and so on. Restaurant owners have to pay Zomato to get the information and optimize and improve their services as per growing requirements.
Food Delivery Services
Meal delivery is an integral part of the link chain between restaurants, delivery partners, and customers. The customers pay fees to eateries, which in turn give commission to the delivery platform.
Live Events
The online ordering and delivery platform like Zomato charges an entry fee for live events and carnivals organized in collaboration with different restaurants. The purchase of tickets becomes a source of revenue for the meal delivery platform.
Zomato Kitchens
Zomato offers a kitchen infrastructure service to eateries and local outlets that want to expand their business at different locations without spending more. It helps to get more restaurant partners and generate revenue at the same time.
What Does The Future Hold For Zomato?
Zomato's compelling business model has helped the platform make its name the largest aggregator globally, and aspiring entrepreneurs have a lot to learn. Many food owners are also thinking of developing a platform similar to Zomato. It offers a combined solution to their ideal customers' requirements and takes care of the entire process until the order reaches its doors.
If you are also looking for a Zomato clone and wonder how much it costs to develop an app like Zomato, then you need to understand that the development price might differ and depend on various aspects like features added, platform & technology used, and much more.
Zomato is always working on different business endeavors while improvising the existing applications and services it offers. Zomato has far more heights to attain and has a bright future. You can also grab better results by choosing to develop an excellent solution similar to Zomato. If you have any queries about the development process, features, and more, don't hesitate to contact us at [email protected].